OKAVONGO, Ol' Blue Eyes Is Back, &c.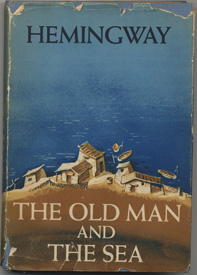 oO
WHAT: O

WHEN: Pre-1900

WHO: The Un-Gyve Limited Group

WHERE: Boston
OKAVONGO: The Greg Hopkins Quintet Album Books.
OL' BLUE EYES IS BACK: From our Un-Gyve archives, Dominic DiBona's original programme book for the Emmy nominated television show that followed Frank Sinatra's 1973 comeback album of the same name. Printed on the orange cloth cover, ol' blue eyes is back above an image of the famous eyes and below that Dominic DiBona. Inside the book are lyrics to all the songs performed along with stage directions.
THE OLD MAN AND THE SEA: A first edition, 1952 Charles Scribner's Sons New York (marked A), of Ernest Hemingway's The Old Man and the Sea from Daisy Nemrow's library, are among the Un-Gyve Archives and always a reminder of the hook, line and sinker.
N.B. The alphabet swatch colour is One More Mile from the Un-Gyve Palette.